This document will explain how you change your dialup/email password With eudora.
Be aware that if you change your password you must reconfigure your software (Winsock or Win95 dialup, Mac PPP dialer etc. To reflect the new password
If you are unsure how to do this, please DO NOT proceed with this.
If you continually get "Invalid Login" from the server after you have changed your password, you have not changed you password on YOUR local machine. For information on how to do this with our software please click here
Connect to the Internet
Open up eudora lite
Go to "special" -- "change password"
Type the old password
Type the NEW password
Type the NEW password again

This password MUST be a "Good" password, or the system will not accept it, it must contain letters and numbers as well as mixed case. an example of a "good" password
If the system will not accept your password keep trying a new one, until you pick a "good" password.
The following screen shot is here for your assistance with this feature.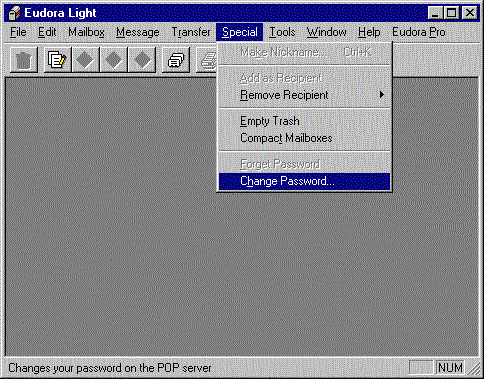 This Document is Copyright 1996 I Don't Know Computer Services Unauthorized Copying in whole or in part Prohibited without written consent of the owner.
E-mail the author idk@idontknow.com Visit our WebSite http://www.idontknow.com